Firings are done by FULL Kiln,  HALF Kiln or Single SHELF load. Half Kiln  and Shelf Loads may have to wait for a full kiln for firing. All firing is first-come, first-served. Wait time may be up to two weeks or more for your firing to be completed, depending on the amount, temperature and what is in line already. Stilting is $1/per piece, stilts NOT PROVIDED, please bring or purchase. 
All items must be contained so we can move the work through our system.Your items will be loaded directly into the kilnfrom your container and back into your container from the kiln. Once fired, we will call you for pickup. Please collect your work as soon as possible, as space is limited.
Payment is due prior to firing.
Terms & Conditions:
ClayPeople is not responsible for fired results or damage of any kind. 
We reserve the right to refuse to fire any work. 
Customer assumes full responsibility for the replacement/repair of any ClayPeople equipment damaged during firing, such as glaze running onto shelves.
WORK LEFT LONGER THAN 30 DAYS after firing will be discarded. 
ClayPeople will not be responsible for the fired results or damage of any kind. ClayPeople reserves the right to refuse to fire any work.

ClayPeople will not accept:
Flammable or melt-able materials inside clay (e.g. paper clay, metal, decals)
Glazed greenware
Pieces that may explode during firing (e.g. hollow forms with no air hole, wet greenware)
Pieces that contain questionable materials (e.g. unknown clay or glaze maturing temperature)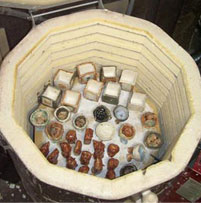 | | | | |
| --- | --- | --- | --- |
| Kiln Size | KILN | Low Fire- Bisque-Luster | Mid Fire |
| *Max Size |   |  FULL /HALF /SHELF | FULL /HALF /SHELF |
|  TEST: 11″ x  13.5″ .8 cf | KM 614-3 | $25/$15/$15 | $29/$20/$20 |
| LARGE: 23″ x 24″ 7cf | KM1027 | $140/$70/$35 | $210/$105/$52 |
| LARGEST: 28″ x 29″  9.9 cf | KM1227 | $198/$99/$50 | $297/$159/$75 |
|   |   |   |   |