ClayPeople's firing is available for those who do not have a kiln. Firings are done by FULL or HALF Kiln load. Half Kiln Loads may have to wait for a full kiln for firing.
Payment is due prior to firing.
Terms & Conditions:
ClayPeople will not be responsible for the fired results or damage of any kind. ClayPeople reserves the right to refuse to fire any work.
ClayPeople will not accept:
Flammable or meltable materials inside clay (e.g. paper clay, metal)
Glazed greenware
Pieces that may explode during firing (e.g. hollow forms with no air hole, wet greenware)
Pieces that contain questionable materials (e.g. unknown clay or glaze maturing temperature)
Additional 10% charge added for kiln loads that require stilting pieces with bases glazed.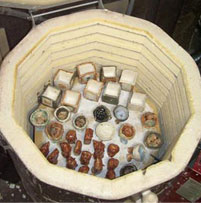 | | | | |
| --- | --- | --- | --- |
| Kiln Size (Maximum size of pieces) | Bisque/Low-Fire Decal/ Lustres FULL/HALF | Mid-Fire Glaze | Cubic Foot |
|  11″ wide x 13.5″   KM614-3 |  $19 |  $25 |  .8 |
|  23" wide x 24"  KM1027 #1 |  $89/$49 |  $99/$59 |  7.0 |
| 23" wide x 24" KM1027 #2 | $89/$49 | $99/$59 | 7.0 |
| 28" wide x 29" KM1231 | $109/$59 | $129/$69 | 11.6 |
| | | | |